Parent Education Foundation Class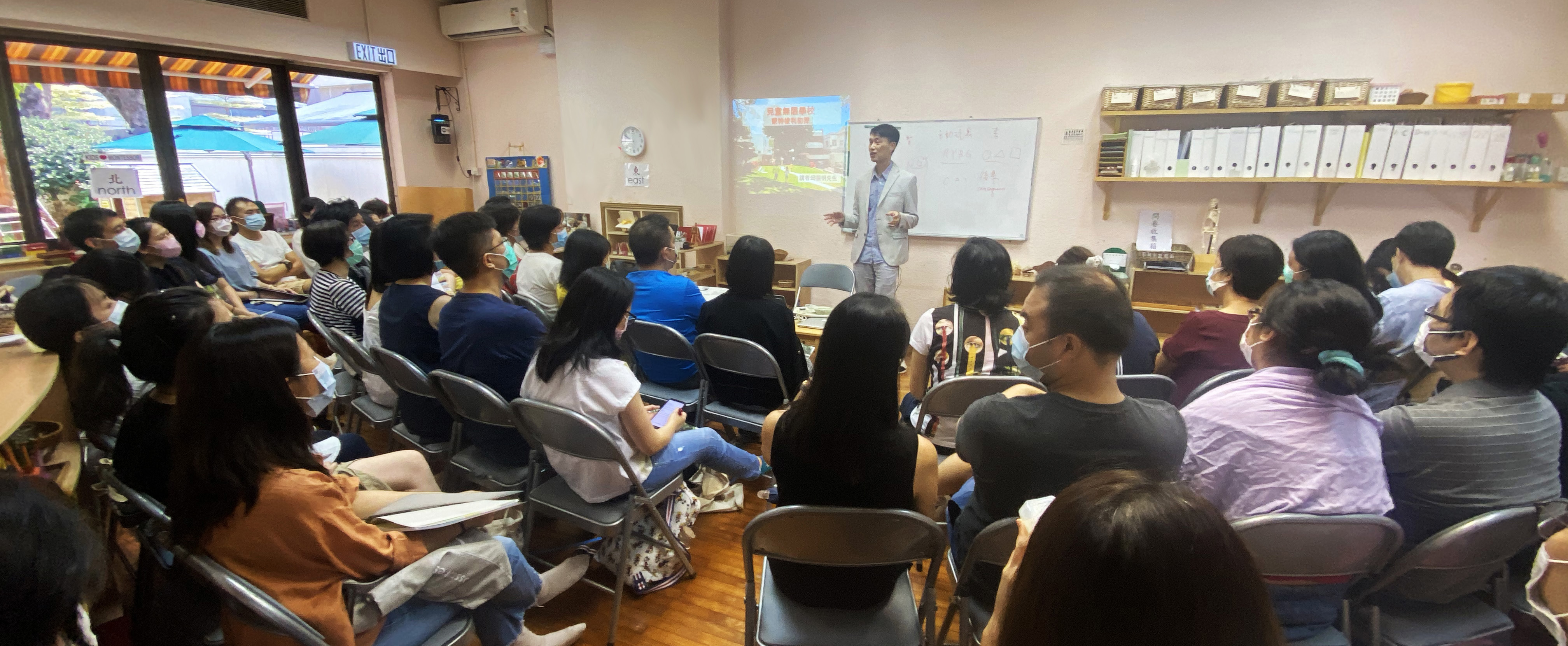 8-hr Parent Education Foundation Class
in Cantonese: (A)16/12/2023 & (B)20/1/2024 (Sat) 9-1pm, (A)24/2/2024 & (B)16/3/2024 (Sat) 9-1pm
in Putonghua: now open for application (10 persons min. per class)
in English: (A) 14/10/23023 & (B) 25/11/2023 (Sat) 9:00-1:00pm)
<Apply>
8-hr Parent Education Foundation Class have A and B section, each have 4 hours. Parents can choose any A and B section from the above dates.
Dr. Maria Montessori believes that adults must first prepare themselves before they can guide children. Therefore, Infinity Children's World emphasizes the importance of teacher training and parent education. Regardless of differences in parents' backgrounds, beliefs, and values, we believe that we can engage in respectful and constructive dialogue with parents regarding their children's growth. In order to realize children's potential and support healthy mental development, parents need to have a more accurate understanding of children and provide an appropriate environment for them to flourish. The goal of our parent education is to enhance parents' understanding of Montessori educational approach and make its theories applicable in everyday life.
If you have already finished this 8-hour Parent Education Foundation Course, you are welcome to apply this programme for your caregiver
Content:
Introduction to Montessori
Introduction to the Montessori educational philosophy
What "Educare" (education + care) is
Seeing Early Childhood Education as "Fundamental Human Education"
What does new life offer to the world?
The establishment of competence and psychological strength
Nurturing the Physical and Spiritual Embryo
Understanding children's senses and emotions
Sensitive Periods
The Absorbent Mind: How early human beings receive signals from the surrounding
The relationship between Consciousness, unconsciousness, and sub-consciousness
Normalization: The relationship between movement and mental capacities
Role modeling: Learning by example
Home management: Mutual respect between adults and children (Respect and indulgence)
Human development Ecology: The importance of parental instincts to children
The relationship between human beings and the natural law: The importance of nature in education
Localization: Integrating Montessori in everyday life
Short film appreciation: Montessori children's capabilities
Brief introduction of Montessori materials
How to choose a mutually respectful school for children
Book recommendations
Program Director:Yau Chun Ming Ralph
Program Instructors:Wong Siu Wing Horance, Chan Hoi Man, So Wai Ching Teresa, Hung Yee Lok Helen, Wong Siu King, Yue Tian, Chan Po Shan, Zhen Zhiying, Wong Tin Tok Vincent, Mok Tik Fai Samuel
Advanced Parent Education Course
How can we build up a child's independence and concentration while nurturing a trusting relationship with the caregiver? How do we help an infant adhere and integrate with the order of the cosmos and everything within it? How do we take care, nurture, and educate our children? With the rapid growth of the child through ages 0-3, parents often discover the need to grow alongside the child. We will focus on the big picture as well as all the details of these three important years to assist you and your child. Prerequisite: 8-hour Parent Education Foundational Class: Introduction to Montessori.
Advanced Parent Education Course:
Secret of Infants (ages 0-3)
8-hour Parent Education Foundational Class: Introduction to Montessori (pre-requisite)
A closer look at the Montessori philosophy
In-depth understanding of the Spiritual Embryo
"Zero" and "Infinity"
Children's positive impact on adults:
Educating without teaching
Normalization: How to bring out the best qualities in children
The key to children's healthy mental and psychological growth
The connection between the brain and movements
Human being's natural rhythm
Short film appreciation: A look at early human's instincts and inclinations
Experience Internalization
The relationship between children and the universe
Universal traits and Creative periods of early human beings
The construction of "self"
Feeling and understanding
Newborn's developmental needs: Movement, sensorial, recognition, language, emotions and social life
Demonstration by Montessori directresses of infant-caring at home
What Early Childhood Education is and isn't
Adult intervention=interruption
Preparing the adult: A self-reflective journey
Reading materials: Human Development
A closer look at Montessori materials and home-made materials
Advanced Parent Education Course:
Secret of Children (ages 3-6)
8-hour Parent Education Foundational Class: Introduction to Montessori (pre-requisite)
Practical Life: Localization--Integrating Chinese and local culture into Montessori practices
Sensorial
Logic and Mathematics
Language Arts
Culture and Science
Social-emotional Development
Montessori Self-Discipline in school or at home
Observation